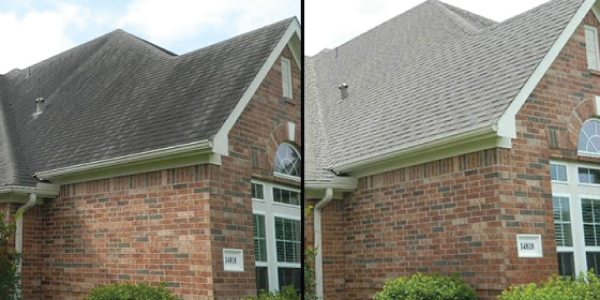 Blue Sky knows a thing or two about ugly shingles & dirty roofs.
Dirty roofs are not just an eyesore, they can be costly disaster in the making. A home's roof is a plethora of mildew and many dangerous organisms. In New Hampshire we have lichens, moss and algae that can erode shingles and compromise the wood sheathing under roofing materials.
This scenario can create the ideal condition for mold growth, which poses serious health risks to the residents. When a roof is neglected to the extent that it starts leaking, it could lead to widespread damage, including rotting walls and ceilings.
The organisms that damage roofs can be removed easily by a professional pressure washing company. Cleaning experts at companies like Complete Power Wash use their pressure washing technique to safely remove the natural buildup and make your roof last longer. The technique employed is called "softwash," (read more below).
If black stains and streaks have made an appearance on your roof, you are not only one in New Hampshire: This issue strikes most homes in Manchester. Our moderate and oftentimes changing climate makes it possible for a bacteria called Gloeocapsa Magma to thrive. It feeds on the limestone in shingles, so those black stains are really visual proof that your roof is being eaten away before your eyes.
1. We offer soft wash, which means we use water pressure only equivalent to a garden hose.
More than that can cause shingles to lift and water to find a way into your roof and or ceilings like ice backup can do in the winter.
2. We use a biodegradable cleaning solution (safe for pets, humans, and landscaping), which sits on the shingles for about 15 minutes and kills all of the moss, algae, and lichen.
3. Professional care is important if you want to protect your shingles and enhance the appearance of your property. Georgia Pressure Washers has an answer. Our role is threefold:
To lengthen the life of your roof
To prevent shingle deterioration due to bacteria and mold
To create beautiful curb appeal and brighten your home's exterior
Long winter many homes in New Hampshire area have ugly streaks running down your asphalt shingled roof. Not only is it unsightly, it can also damage your roof. If you are experiencing this problem Blue Sky team members can help you. Go with the professionals at Blue Sky Power Washing! 603-594-WASH!